The Predictive Power of Dillo
We knew nobody else would take the time to do this, so here's the data analysis of your dreams.
In 2012, Mayfest booked then 23-year-old Kendrick Lamar for Dillo Day. At the time, Kendrick had released just one studio album, Section.80. He was still several months away from releasing Good Kid, M.A.A.D City (which would eventually reach second on the Billboard Top 200 albums).
Sharing the stage with Kendrick in 2012 was Reel Big Fish, a ska punk band that formed in 1991 and peaked in the late '90s and early 2000s. Their lead singer, Aaron Barrett, regularly wears floral shirts and has mutton chops.
Clearly, Mayfest brings in a diverse mix of performers at different stages in their careers. It's reflected in the data, which points to three clear archetypes of Dillo Day performers based on career trajectory – the Riser, the Flat-Liner and the Faller – those who peaked after Dillo Day, those who peaked before Dillo Day and those who never peaked at all.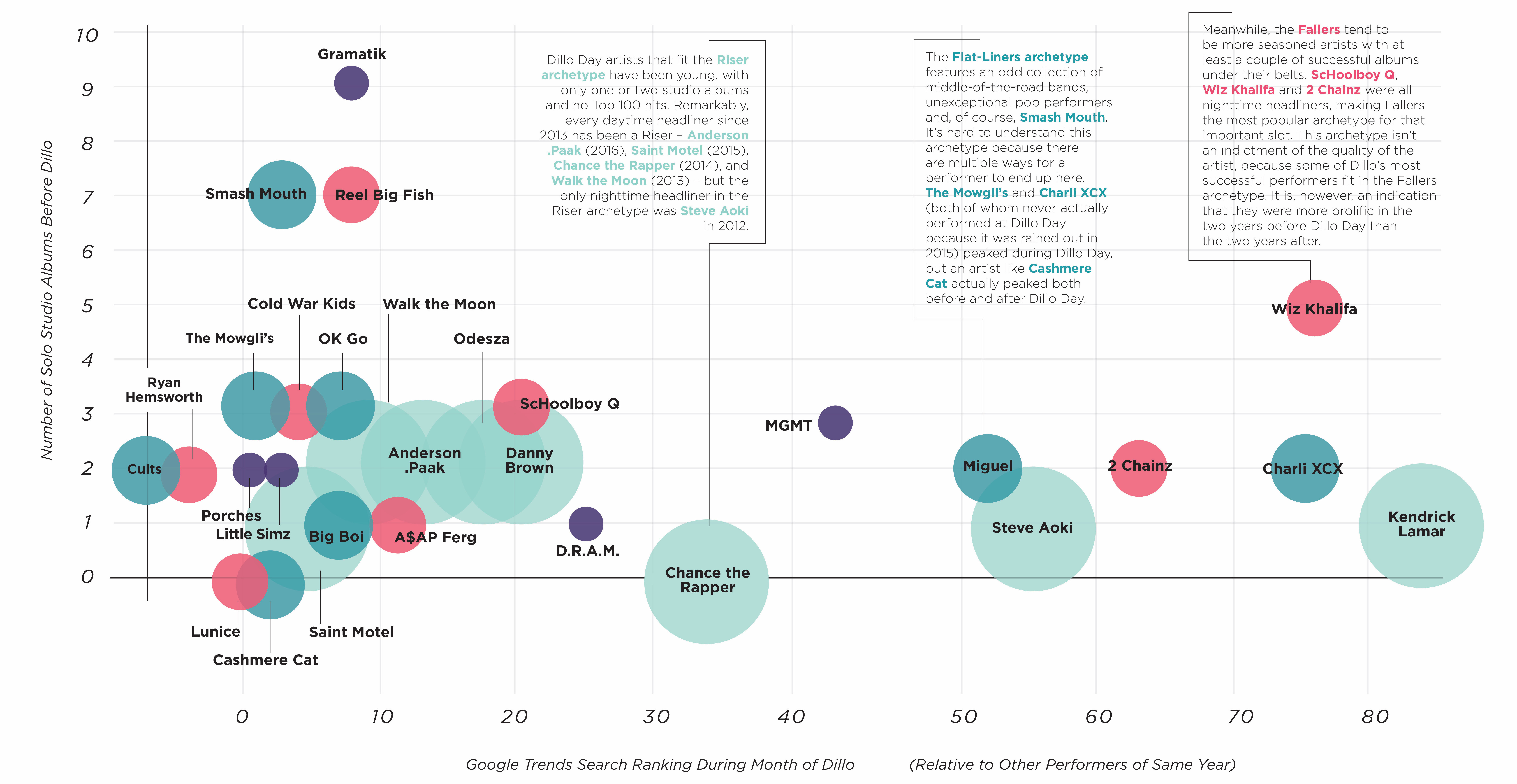 How did we do it?
These archetypes were created by plotting Google Trends Search Rate data for individual artists across the four years surrounding their Dillo Day performance. The artists were divided into tertiles – three evenly populated sections of a distribution – based on Google Trend Search Rates before and after Dillo, and plotted once again. Google Trends data is a reliable way to measure the shape of an artist's career – it shows how much they are searched over a time frame, giving a general sense for when they were popular – and when they weren't.
Dillo Day artists that fit the Riser archetype have been young, with only one or two studio albums and no Top 100 hits. Remarkably, every daytime headliner since 2013 has been a Riser – Anderson .Paak (2016), Saint Motel (2015), Chance the Rapper (2014), and Walk the Moon (2013) – but the only nighttime headliner in the Riser archetype was Steve Aoki in 2012.
The Flat-Liners archetype features an odd collection of middle-of-the-road bands, unexceptional pop performers and, of course, Smash Mouth. It's hard to understand this archetype because there are multiple ways for a performer to end up here. The Mowgli's and Charli XCX (both of whom never actually performed at Dillo Day because it was rained out in 2015) peaked during Dillo Day, but an artist like Cashmere Cat actually peaked both before and after Dillo Day.
Meanwhile, the Fallers tend to be more seasoned artists with at least a couple of successful albums under their belts. ScHoolboy Q, Wiz Khalifa and 2 Chainz were all nighttime headliners, making Fallers the most popular archetype for that important slot. This archetype isn't an indictment of the quality of the artist, because some of Dillo's most successful performers fit in the Fallers archetype. It is, however, an indication that they were more prolific in the two years before Dillo Day than the two years after.