Stepping up to the Plate
Digging in with Cookology, Northwestern's premier culinary club.
Sheil Catholic center probably isn't high on your list of places to spend a Friday night. The main floor is empty and quiet; the only movement is the light flickering from the fireplace. The sounds of laughter and pungent odor of green onions rise up from an unlit staircase. The real party is underground.
In the light of the basement kitchen, students gather around cooking stations, each outfitted with a cutting board, chef's knife, induction heater and frying pan. It's one of Cookology club's weekly meetings. Today: a demo on preparing oyakodon, a Japanese dish of eggs, chicken and rice simmered in sweet and salty broth.
At Cookology, Northwestern students with various levels of culinary experience can try their hand learning kitchen techniques from practiced executive board members and partake in cooking demos taught by professional chefs.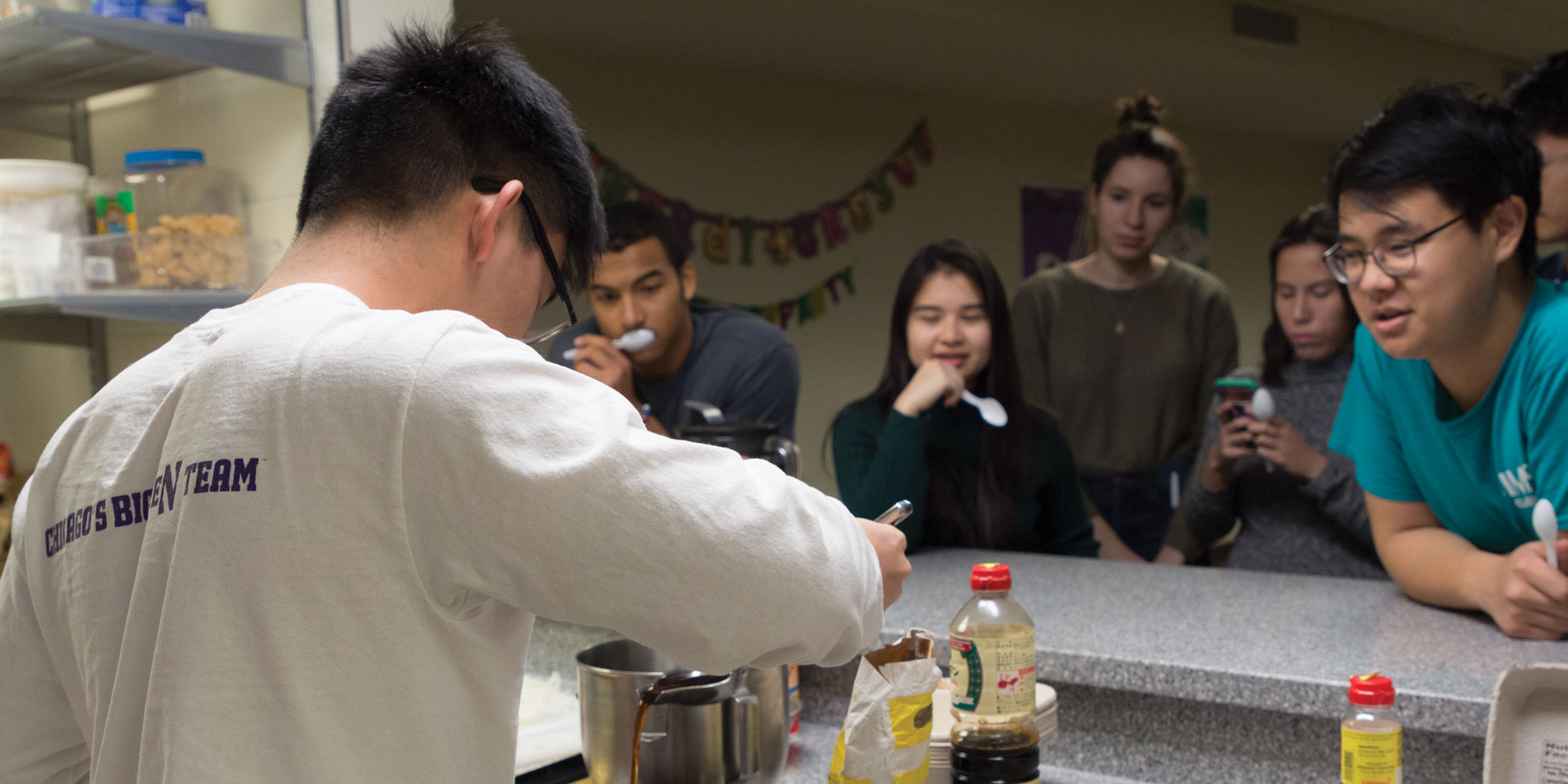 "There is a decent group of people that have a natural interest in food, but either have a hesitance against learning how to cook or can't find time," says Huy Do, Cookology's co-president. The space, he says, "is meant to foster a passion for food, and also the technical skills to create food."
In 2014, a group of students founded Cookology with the hopes of sharing their love and knowledge of fine dining with other students. However, the expenses associated with high-endcuisine were unsustainable for the self-funded club. In the past two years andwith a change in leadership, Cookology has altered its vision slightly.
"We have to create a flexible model where anybody who's taking over of the organization can re-conceptualize what the organization really means," Do says, "as long as its core model and its core philosophy are being maintained."
For the current board, this means becoming an ASG-funded B-status organization, and scaling down the ingredients and techniques to make recipes more accessible to students.
Beyond weekly events, Cookology also hosts a pop-up restaurant at the end of the quarter to present the techniques and recipes members have learned. In previous years, the executive board members have been the only ones who cook for pop-up restaurants, but this year, all members will get a chance to participate.
"What I really like about cooking is the moment people taste my food and their face changes." says William Jeang, who led the oyakodon demonstration, "When I walk out from the kitchen during pop-up restaurant and everybody is looking at us, I know they had a very good meal."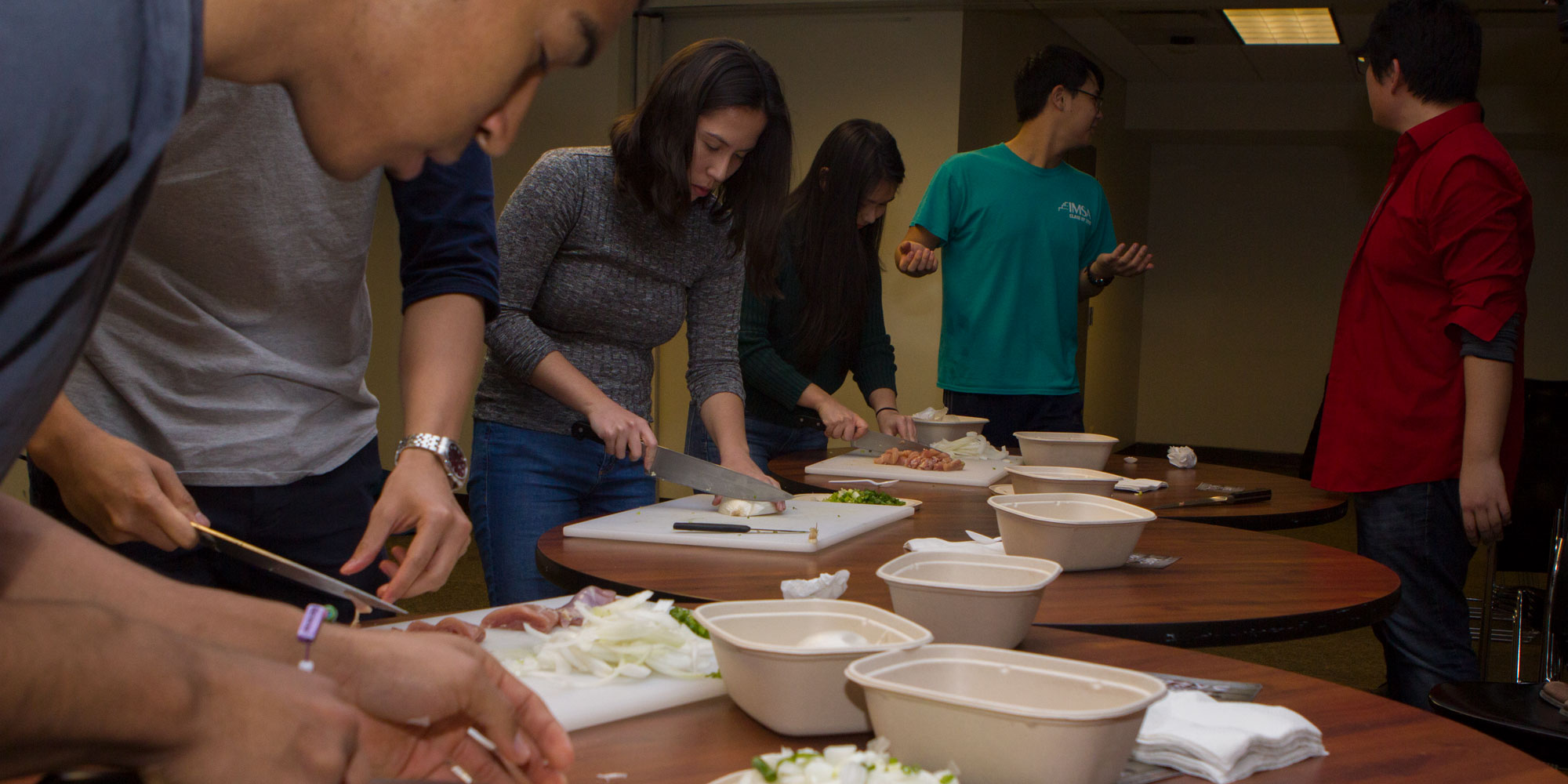 Although the pop-up restaurant draws more attention, most of Cookology's events see a small turnout. At the end of the lesson, the executive board and members sit down to enjoy their meal together. The night ends with a promotion for next week's event and cleanup.
Jeang, who frequently invites friends to come to events he leads, says: "It's hard to get people to take time out of their busy lives to come to these events, but when they do, they usually are impressed."
And he knows how to appeal to a college audience. "You just have to say the magic words — free food!"