I met him on an app.
Well, an application.
Jeffrey* played hard to get and made me work for it. There were around 13 others, but my mind was a compass needle, laser-focused on him.
So with the halogen swirl of my desk lamp creating a coffee stain in my consciousness, I made sure that I pored over each word of each love letter. And as I sealed all 14 with a kiss, I willed only for Jeffrey – this crazy handsome package of man (from what I could tell from the pictures) – to pick me.
When I was finished, my cuticles were ripped, pencils splintered. I was overworked, miserable and deliriously happy.
And one sweet day, Jeffrey chose me. Just as I had chosen him. Two right swipes. It seemed like clockwork. I stewed in my bliss and pride for the months leading up to our first day together.
I filled my late August nights padding my brain full of internet boards about Jeffrey and his whereabouts and how to impress him. I sifted through John Green books to convince myself that I was just as erratic and gutsy as his manic pixie heroines who strung along change on a leash. I was ready for the love of my life.
Yet, I wondered: How often is it that these type of things work out, with thousands of options like him out there? Which was the best? How could I know?
On our first date – I still remember that I wore a wrinkled American Rag sundress and sunglasses that made me resemble a horsefly. Jeffrey seemed to accept this anyway. I liked him immediately.
Our second date – moonlit walks skirting the Lakefill. His acute sense of humor and the way that he gripped me made me feel like my world was a guarded terrarium, bounded in between the row of rocks and the murky, bewildering city jutting out from the sky ahead.
We weren't the perfect couple. Jeffrey wanted me to be committed, and he still bled into my every plan. He was the overlord of my Google Calendar and guardian of the nights when I simply wanted to be unleashed from his neediness. But at the end of the night, I would always make my way back to his stoop, my mind occasionally peppered with passive aggressiveness, hoping that I'd suffocate a little less when I had to face him and the sun again.
Jeffrey is the kind of guy you'd want to show off to your friends, especially the ones you haven't seen in a while. When people misspelled his name, an instinctive "actually, it's" would roll off my tongue. Occasionally, I saw a confused eyebrow raise and I wanted to shout, "Who the hell doesn't know Jeffrey? Who wouldn't want to know him?"
I knew I had made a good choice. Was it the right one, though? Sometimes I thought about Harry or Ryan. I wondered if that was normal.
And I imagined my life playing out with a whole bunch of others when I saw my marked down papers that bridled my esteem. Or the conveyor belt of smiles and sunny, marbled-looking backdrops moving through my newsfeed.
A bit after our one year anniversary, I began mentally flipping Jeffrey off. T-shirts that took the shape of Zip-loc bags and socks fuzzy because they were inside-out became my go-to date outfits. I became comfortable. I binge ate Sarpinos at home. I dared to Uber farther than I could afford – anything to be away – for a glimpse of something else.
Back at home, I was still heavily involved. I followed through the motions, working harder than ever to keep our relationship afloat. But Jeffrey's already dwindling vibrance became lackluster, barely coasting on a memory of a different time.
My mornings seemed to be in sepia, sluggish and fueled with stupid amounts of tea bags to reverse the motions of my eyelids. In a flurry, the next few years passed.
---
It's June 5, 2017, 4:30 a.m. And as the clock hands overlap on my wall, I brush my fingers over my laptop softly so I won't wake up my roommate puncturing the air with her arrythmic snores.
A text from Jeffrey illuminates my screen: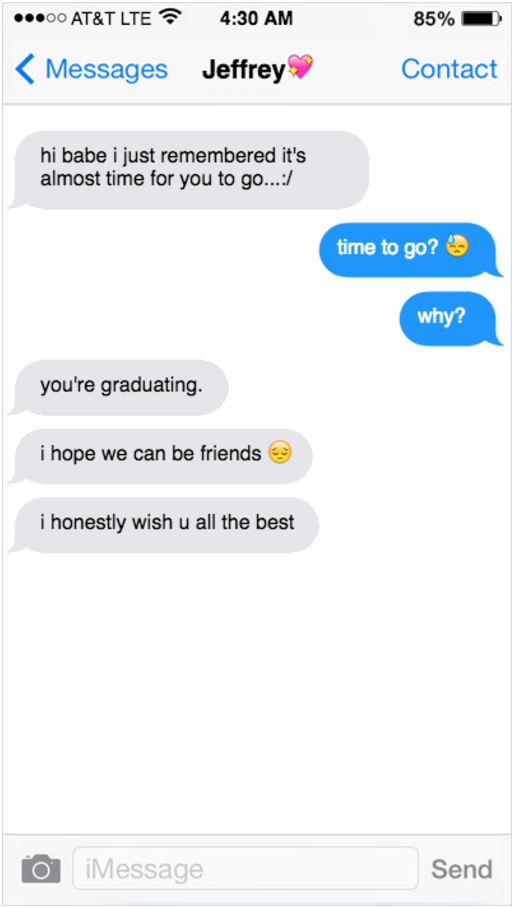 With a pang, I had forgotten over the course of these four years that our relationship was entirely conditional.
As milk curdles, apples oxidize and Frank Ocean's last track fades into a b-roll, my relationship will too. As I looked at all the bits and parts of Jeffrey strewn about my life – last night's Snapchats muddled with imperceptible captions, late strolls along the curb of Sherman with The Weeknd crooning from a faraway porch – that expiration date crawled ever more underneath my skin.
It's funny how when there's numbers involved – numbers  that you can start counting on your fingers – you tend to skim over the less savory moments and grab onto the ones where you burrowed yourself on cloud nine.
I'm know that I'm definitely not ready to let go.
I'm not going to lie. There are still rare moments when my mind blares the proverbial "what if," but my beach-filled fantasies about Harry from a mythological, far-flung time have subsided. There's no point.
Nobody has the prestige of taking a final exam 14 times, and you don't get to live 14 different lives. God forbid you date that many people at once. With all the choices out there and events sliding in and out like musical chairs, you can't possibly know what could have been the best one.
Because too often you've wished so hard for another thing, you end up draining yourself away like the kitchen sink. You forgot the ways in which it really filled you up because every time you looked back, it was still there.
Desperately waiting for you to love it back.
Living in Jeffrey's intense world was insular, passionate and, at times, god damn difficult. But he's introduced me to the most qualified, insane and loving friends I've ever met. He armed me with a quick and steady confidence. Most of all, he kept on nudging me forward to do what I came here to do: write.
Write, I did – from that first painstaking love letter to this bitter, heart-rushing last. For that, I love him more than anything.
Jeffrey and I will part ways soon, but I'm ready to have one last date. Lord, I'll make this one count.
* Names have been changed.